Jonathan Cheris - Past President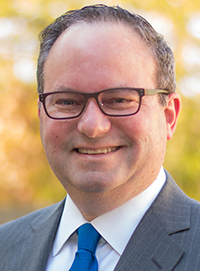 Temple Sinai is my Sinai because I love sharing sacred moments with my temple community.

My wife Ann and I joined the temple in the summer of 2001, and have never looked back. We have become active members of the temple along with our children, Aaron and Sara. It was a privilege to serve as the president of Temple Sinai and work towards the betterment of our temple family.

I became more involved as a volunteer after my father's death from cancer in 2003. I was already engaged in community leadership roles within the Village of East Hills and believed that my skills could be useful within the temple community that helped me through his passing. I've served the temple as Brotherhood President, and Committee Chair for Marketing, Membership, and Administration. I served as Vice President for four years prior to becoming president.
Since 2013, I have been the Director of Marketing Information and Insights for Astoria Bank here on Long Island, after creating and leading innovative marketing analytics teams at Citibank for a number of years. I have extensive experience in consumer financial services.

My outside interests include family and photography, and I take lots of pictures on family outings and vacations!

I take my civic responsibility seriously and have been president of my civic association, a member of the Park at East Hills Oversight Committee, and other volunteer programs within the Village of East Hills.

I am on the corporate board for the Long Island Chapter of the Crohn's & Colitis Foundation of America (CCFA) and am proud to have completed six half-marathons around the country while raising valuable funds and awareness for the mission of the CCFA.
Fri, December 1 2023 18 Kislev 5784