Lay Leadership
To learn more about the members of our Lay Leadership team, simply click on their photo.
BOARD OF TRUSTEES 2022-2023

Officers


Amy Braunstein, President

Temple Sinai is my Sinai because when I enter the building, I have found my home. Everyone is supportive, welcoming, and truly interested in my family and me. Our clergy and temple leadership are committed and engaged to be responsive to all of our congregants in a meaningful way.
My husband Richard and I joined Temple Sinai in 1999. Our older son, Andrew, attended Religious School from third grade, became a Bar Mitzvah, was confirmed, and graduated from the Teen Program in 2009. Our younger son, Michael, attended Temple Sinai's nursery and summer programs, became a Bar Mitzvah, was confirmed, and graduated from the Teen Program in 2015. They were both officers in SORTY and participated in many of the NYC and Albany trips during their school years. Michael also blew Shofar at the Children's and Community Services during the High Holidays for many years.
Since serving on the Board as Secretary under Charlie Berman, I have been continuously engaged in temple leadership. Over the past 15 years, I have participated in and led many committees, and organized many temple events. In addition, I have actively participated in Friend of a Friend, Social Action, Social Justice, and Adult Engagement, all of which have enriched my Jewish experience and broadened my perspective as a Jewish woman. Most recently, I serves as Executive Vice President, overseeing many committees and participating, on a daily basis, in temple matters. I look forward to the opportunity and privilege of serving as Board President, working with an inspiring group of committed leaders, to help advance Temple Sinai and enrich our community.
I taught Computer Science, Math, and Technology in the Roslyn School District from 1985 until I retired in 2019. I enjoy traveling with my family, going to the theater, and working in my
garden.
Back to top

Allen Geller, Executive Vice President

Temple Sinai is My Sinai because it is a second home. It becomes a peaceful way station after a turbulent work week. It is a place where I am welcomed by our clergy and fellow congregants and can fulfill my needs to work and help others.

I have been a member since 1987 and have always enjoyed being at the temple. I am a former Brotherhood President, and through my involvement with Brotherhood I was honored to become a Trustee of the temple, a badge I wear with great joy and a sense of pride.

My wife, two daughters and I moved to Roslyn in 1987. My wife grew up at Temple Sinai. Her parents were married in the Rabbi's study in 1965. In 1976, we were married in Temple Sinai; in 2006, Rabbi White officiated at the wedding of my older daughter. My granddaughter, Danielle, was named in temple in November 2014. So you see, Temple Sinai is really our second home filled with wonderful memories, great milestones, and many friends.

I enjoy my family, golf (I had to say family first!) and all types of outdoors activities, and am one of the principals of a Retained Executive Search Firm with primary offices in Manhattan.
Maribeth Kraus, Secretary

Temple Sinai is my Sinai because it is a community whose clergy nourishes me spiritually and emotionally, where I am challenged intellectually, and where I feel welcome and at home.

My husband Andy and I joined Temple Sinai shortly after I converted to Judaism and it has been our spiritual home ever since. I have served on several committees, most notably the 2021 Virtual Gala Committee, and have participated in many temple activities, especially those offered by Friend of a Friend. I am honored to serve as Secretary for the next two years.

Professionally, I have an M.A. in Social and Organizational Behavior, am a Certified Meeting Professional (CMP) and an Associate Certified Coach. After a career as the Director of Convention Programs for the Modern Language Association, I am currently a meetings and event specialist/consultant for small- to mid-sized non-profits through my business, MB Kraus Solutions, LLC.
I am a wife and a mom and enjoy many activities with my husband, son, daughter-in-law, and their adorable puppy. Willoughby.
Liz Wiener Neale, Vice President

Temple Sinai is my Sinai because… It's my "home away from home."

I am a third-generation member. My grandparents were members of the temple and my parents joined when they moved to Roslyn. When my husband and I moved here, we became members ourselves.

Temple Sinai has always been part of my life. My mom was President and my dad was very involved in Brotherhood. I volunteered at the temple for community service during high school and I know what a wonderful place it is, so it wasn't a question of "why" to get involved and join the board, it was only a matter of time until I did.

Professionally, I am a public relations and marketing consultant. In my spare time, I love spending time with my family and friends.
Back to top

Scott Nussbaum

Temple Sinai is My Sinai because I appreciate the warm, welcoming and approachable Jewish community created by the clergy and staff. Growing up in a Jewish-by-tradition-but-barely-by-faith household in Southern California, the synagogue I belonged to had no cantor and my Bar Mitzvah took place in an industrial park. While I've always held a strong sense of Jewish values
and customary traditions, I hadn't lived in or been part of a Jewish community until Temple Sinai. To me, religion binds generations together through a common history, shared traditions, and foundational values. Temple Sinai proudly supports, honors, and reinforces these goals.
My wife, Emily, and I have two daughters who are preparing to become B'nei Mitzvah in 2021. This will mark our tenth anniversary at Sinai, beginning with nursery school. I'm honored and humbled to be joining the Temple Sinai Board of Trustees where I will do my part to support the people that do so much to take care of our synagogue, children, and community.
Professionally, I'm the Chief Compliance Officer at a boutique provider of investment due-
diligence services. I also serve on the boards of directors for a small technology company in
the travel and tourism industry and a non-profit scouting affiliated organization in California.
My hobbies include investing, chasing my children, and dabbling in IT support, facilities
maintenance, plant management, and procurement at my home in Roslyn.
Jeffrey Sklar, Vice President and Treasurer

Temple Sinai is my Sinai because of the wonderful clergy and the sense of peace I feel when I walk into the sanctuary.

I started coming to Temple Sinai on the High Holy Days when I began dating my now wife, Kelly Grunther, who has been a member for over 20 years. A tradition I shared with my father and uncle and family was that we always went to Yom Kippur closing services together, despite the fact we all belonged to different temples. Several years ago, after coming to Kelly's son's Bar Mitzvah, which happened to be one of Cantor Sergei's first services, they met me at Temple Sinai and after the service, my father turned to me and said, "We've found our home." Temple Sinai is a place where my family and I feel at home.

I am the Managing Partner of SHH&K, a regional CPA firm and also the Managing Director of SHC Consulting Group, a firm specializing in anti-money laundering compliance, regulatory compliance, analysis, fraud and forensic services, and due diligence reports for private equity funds, hedge funds, and financial institutions. I am an avid golfer, sports enthusiast and enjoy traveling with Kelly.
Charles Weiss, Legal Counsel

Temple Sinai is my Sinai because when I walk through the doors, the rest of the world is left behind and I know that I'm in a place where I can be myself and be welcomed unconditionally.

My family and I joined Temple Sinai in 1987.

I was a member of the Board of Trustees from 2013-2020. After many years devoting time to various civic and educational causes, I felt it was time to serve and give back to Temple Sinai. In addition to my new position as Legal Counsel, I enjoy singing in the Adult Community Choir. I have found working with Cantors Sergei and Elena Schwartz to be immensely rewarding. I have also applied my musical abilities to helping write the Purim spiel for the past several years, which is a great deal of fun.

In the secular world, I am an attorney with a practice in transactional real estate matters. I am both a sole practitioner and of counsel to Lazer, Aptheker, Rosella, & Yedid, PC in Melville.

When I am not working, either at my profession or for the temple, I enjoy golf, reading, and playing the piano.
---
Richard Blatt

My wife Helene and I, along with our daughters, Emily and Rebecca, have been members of Temple Sinai since September of 1998. We first joined Temple Sinai for my children's Hebrew education and immediately fell in love with the Temple Sinai community.

A few years later, I joined the Brotherhood, and my appreciation for the warmth and friendship grew stronger. I now have the pleasure of being a Temple Sinai Trustee and have the great honor to stand on the bimah with Rabbi White, Rabbi Schachter and the Cantors Schwartz.

As an Avaya business partner, I design, sell, and maintain Business Communications Systems, providing voice and data solutions that help businesses grow and remain competitive.

One of my interests is running, which I do almost every day at the Roslyn High School track. I participate in many of the Village of East Hills and Roslyn School District activities, as well as assist with my Fairfield Park Civic Association.

I am interested in antiques, including old radios and cameras. I have a rare collectible Vintage 1979 Beetle convertible, which has been restored to its original condition.
Back to top

Lauren Borkon

Temple Sinai is my Sinai because it provides my family a sense of belonging, giving us a place to learn and celebrate, pray, and feel at home.
My husband David and I moved to Roslyn in 2012 with our twin daughters, Alana and Molly. Both girls have attended the Religious School for the past four years and are preparing to become B'not Mitzvah in the winter of 2021. As a family, we currently participate in the Holocaust and Jewish Resistance class at Sinai, and are fortunate to have had this experience. I look forward to my continued involvement in Sinai.
Professionally, I am a Managing Director at ELR Search, a national legal recruiting firm. I enjoy cooking, taking long walks with my dog, reading, traveling, and spending time with my wonderful family.
Jacqueline Covey

Temple Sinai is my Sinai because it embodies what I want to be as a Jewish person. When I walk into Sinai, a weight is lifted off my shoulders, and a smile comes across my face. I know that my family and I will be warmly greeted, I know good things are happening within these walls, and I know that the clergy are true leaders who inspire and guide our community with wisdom, strength, and warmth.
My family joined Temple Sinai towards the end of 2016. While I was still a member of another synagogue, I met Rabbi White and Cantor Elena several times over the years, and I knew my family would be joining Temple Sinai when the time was right. Now I know exactly what was missing from my life. Temple Sinai has re-awakened part of me, and brings out the best in me, my family, and those around us.
My daughter Dani became a Bat Mitzvah here in 2017, and my son Adam (who became a Bar
Mitzvah prior to joining Sinai) was part of the TSPN program for a few years. Both children
participated in Rabbi White's Confirmation class, as well as other teen programs. My husband
Steve and I enjoy several Adult Engagement activities, and look forward to trips with our
temple family. I had the honor of co-chairing Temple Sinai's 70th Anniversary Gala with
Howard Berrent and Robyn Corbin. Celebrating Temple Sinai together was a joy for all. I am
currently the president of Friend of a Friend, Sinai's active women's group.
I was a Spanish and French teacher, and have also worked as a book and website editor. I
currently use my background in art history as a docent at the Heckscher Museum. I have
visited Israel 5 times, the last time with my family, and in my free time I enjoy biking, tennis,
skiing, sailing, reading, traveling, and spending time with friends and family.
Frank D'Ambrosio

Temple Sinai is My Sinai because when I decided to renew my spiritual life and commit to my Jewish identity, there was no other choice than the community and leadership we have at Temple Sinai.
Lynne Falkowitz

Temple Sinai is my Sinai because it provides me with a sense of warmth, love, community, and purpose that every Jewish family should have. When we first moved to Roslyn ten years ago, we enrolled our oldest son in the Temple Sinai Early Childhood Center. It was at Temple Sinai where we created our first true friendships on Long Island, and discovered the tremendous sense of love and community Temple Sinai has to offer. After years of a tradition of returning to Brooklyn to celebrate the Jewish holidays at the temple my husband and I grew up in, we decided to begin a new tradition of attending services and celebrating holidays as. a family at Temple Sinai - and we love it!
I am the proud mom to three beautiful children, Ethan, Landon, and Reese, and have the most amazing husband, Gary. I have been practicing law for almost 17 years with a specialty in ERISA, employment and executive compensation, and currently, work in-house for Equitable Financial Life Insurance Company as Lead Director and Associate General Counsel. My favorite thing to do is spend time with my family and friends. In my downtime, I enjoy listening to music, traveling, cooking, and watching sports.
Jana Grotas

Temple Sinai is my Sinai because it is a safe, welcoming, warm place of worship, but even more, it is a loving community led by dedicated, caring clergy. I grew up and became a Bat mitzvah in a Reform synagogue in New Jersey. I was raised learning the values and traditions of Jewish culture, with a particular emphasis on family, education and giving. I feel strongly that Temple Sinai helps my husband Aaron and I to continue to pass these values onto our two children, Logan (15) and Reese (10).
We joined Temple Sinai when we moved to Roslyn from NYC in 2012. Our son Logan started
religious school and became a bar mitzvah in 2018. Our daughter Reese currently attends
Temple Sinai religious school. We love and appreciate the vast opportunities for community
service that are available to us and our children. Logan participated in Hand in Hand and TSPN
last year, and now is actively involved in Havdalah for Hunger. He and I have co-chaired the
toiletry committee for mitzvah day for the last four years. I have participated on various
committees including the Auction committee and currently, as Co-Chair of the Education
Committee.
Currently, I am a stay at home mom to Logan and Reese, and my hobbies include traveling,
reading, writing and photography, and walking our goldendoodle Charlie. I have my Doctorate
in Psychology and practiced as an industrial psychologist for 17 years in leadership consulting,
fifteen of which were at Personnel Decisions International (PDI) in Manhattan. I look forward
to continuing to grow personally and professionally as a Board member at Sinai.
Back to top

Steven Halpern

Temple Sinai is my Sinai because it is a place where both social and religious needs are fulfilled. It is a warm and caring community.

I have been a member of Temple Sinai since 2000 and have served as co-chair on the Ushering Committee for a number of years in addition to being a member of the Religious Affairs Committee.

I am married to Caryn Selick and have two children, both of whom attended and completed Religious School.

I have an MBA in Finance and am employed as a pension actuary. But in my spare time, I like to play and watch sports, swim, and spend time with family.
Ginny Jordan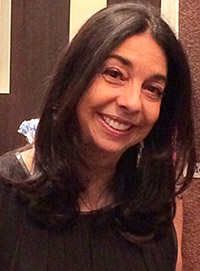 Temple Sinai is My Sinai because it is the place where I became my true self. Not where I found myself, but where I became myself. I don't think of myself as someone who converted to Judaism. I think of myself as someone whose essence was, is, and will always be, deeply and fully Jewish. The second best thing to ever happen to me was my conversion. Now, the second best thing is to have the privilege to serve my temple, in this additional way. Temple Sinai is where my heart feels at home. Rabbi White has been my guide to navigating a complicated life and a natural journey to Judaism.

I wrote a children's book and Temple Sinai's Nursery School classes were my first audiences. Since then, I have read my book at many other schools, and a charity event at the Friars Club, but my favorite experience will always be reading to our cuties. I love writing, and I am proud to craft our bi-monthly Five in 5 email series. My other interests include photography, painting, yoga, reading, gardening, museums, theatre, being with my friends who have become my family, and, because my family was from Boston I am a Patriots and Red Sox fan. I don?t want to end on that note, (living in New York) so I will close with something I very much enjoy - learning.
Bert Kraus

Temple Sinai is My Sinai because Sinai means strength, Sinai means security, and Sinai means family.

More than 40 years ago, my wife Paula and I were married at Temple Sinai, and started our lives together. We have been members of the Temple Sinai family ever since. Our children, Shawn and Samantha, have been named at Temple Sinai and were B'nei Mitzvah. Both were married at Temple Sinai and all of our grandchildren were named here. So as you can see, we have been lifelong members.

I have been a Brotherhood Board Member for over fifteen years. I have also served as a Mitzvah Day Captain, and member of the Todah Robah committee. In addition, I have served as Chairperson of the "Sinai Sights and Sounds" Art Show, and am considered to be the "resident" temple artist.

My business career has revolved around men's wear apparel. Presently, I am both a merchandiser and seller. I am a passionate artist, painter, photographer, and collector; affectionately known as the "Curator." Most importantly, I love Temple Sinai, my family, and life.
Rob Kuppersmith

Temple Sinai is My Sinai because when we decided to move to the community 12 years ago and our daughter started nursery school here, the congregation and the clergy welcomed us with open arms. It is filled with spirit, energy, and love that makes you feel at home. It speaks of what it means to be Jewish. The programs and assistance it provides to the community at large is second to none. During the pandemic, our son became a Bar Mitzvah and to say the synagogue did an amazing job is an understatement. The support Temple Sinai gave me and my wife, Alyssa, will forever be remembered. My family has participated in the Holocaust and Jewish Resistance class twice and I can't express how gratifying the course was for our children, Zach and Reese. Professionally, I am an Executive Director at Cushman and Wakefield for the last 20 plus years on the Global Brokerage side of the business. I enjoy skiing and boating and spending time with my family.
Donna Liebowitz

Temple Sinai is My Sinai because it is so warm and welcoming and there are many different ways in which the temple engages the community. There is truly something for everyone, and certainly for us.

My family and I joined Temple Sinai in 2012 when my son entered the third grade. My husband Rob and I are the proud parents of Adam and Eliza. I have served on Temple Sinai's Auction Committee, the Interfaith Committee, and have served as Solicitation Committee Co-Chair for the temple auction.

In my professional career, I was a photo editor and art director for photography agencies including Getty Images. I was solely responsible for bringing a British Stock Photo Agency, Digital Vision, to the United States and establishing a creative presence for them, serving as Creative Acquisitions Manager and member of the company's Executive Management Team.

I have been extremely active with charitable and outreach efforts within the community, including the SJJCC Auction Committee, and as a member of the JCC's Marketing & PR Committee. I have been very active over the years raising significant amounts of money and soliciting donations for organizations such as Baby Buggy, Cohen Children's Medical Center, The Animal Rescue Fund of the Hamptons, The Roslyn Trinity CoOp, and Go With Courage.

In recent years, I have been a freelance photo editor, art director and proofreader, and now serve as Marketing Director for Intuistic LLC. I am also in the process of setting up a fashion line with my daughter Eliza called FRNG wear. We just launched our first product, the FRNG Sac.

I consider myself a spiritual person and enjoy reading spiritual books in my spare time. I feel a special connection with the temple and consider it my spiritual home. I look forward to becoming more involved with the Temple going forward.
Amy Mandell

Temple Sinai is my Sinai because it has provided our family a place to learn, celebrate, and explore our Jewish faith. The warm and caring environment created by the clergy and staff makes Temple Sinai a place to go to for everything from scholarship to friendship and support; you always leave feeling better than when you came in.

My husband and I joined Temple Sinai in 1999 with our son. Subsequently, we had two more boys who were both welcomed into the Jewish community at Temple Sinai celebrating their britot. All three of our boys attended Religious School from kindergarten to their B'nei Mitzvah and through high school. I have been a member of the Religious School and Social Action Committees, and am a past Social Action Co-Chair. Currently I am a member of the Youth Engagement Committee. Working on the Listening Campaign with Richard Laskey showed me that one of the most powerful strengths of Temple Sinai is the diversity of its congregation. Additionally, I helped organize our Guinness World Record sandwich making event.

Professionally, I am a Social Worker. For more than 15 years I have been working in the Counseling Center at Queensborough Community College, providing counseling services to the student body, in addition to teaching a freshman seminar.

I enjoy spending time with my boys, reading, pilates, yoga and walking with my husband and our dog.
Danielle Massari

Temple Sinai is my Sinai because everyone treats you like family. It has become a place where my children are growing up and it feels welcoming and comfortable.
My family joined Temple Sinai in 2017 after we moved from New York City and our older son, Brandon, started Pre-K in the Early Childhood Center. I immediately became actively involved with the ECC and feel passionate about the warm and nuturing environment they create for our children. Brandon now attends the Religious School and our younger son, Max, is in the Threes class.
I am a teacher with degrees in Childhood Education, Special Education, and Instructional Technology. I also own a private tutoring company, Successful Students NYC, providing individualized support for students of all ages. We work with students throughout Long Island, New York Ciy, and nationally.
I enjoy playing tennis and spending time with my family and friends.
Adam Mesh

Temple Sinai is my Sinai because of the warmth I feel whenever I am within its walls. Our Rabbis connect with me and our Cantors move me with their amazing voices. Everyone has their own careers, responsibilities, and goals, but when we are at Sinai, we are all united in one goal, which is to leave the world better than we found it. Through prayer, mitzvot, and love, we congregate to make things better. That is why I take such pride in our temple and want it to be the ultimate representation of the good we can accomplish when we work together.
The first time I was at Temple Sinai was for a wedding and I said to my wife, this place is special. When we moved to Roslyn in 2017, we joined instantly. My twins, Alexa and Eli, are currently 11 years old and attend Temple Sinai Religious School, as does my eight-year-old daughter, Sloane. I'm honored and excited to be joining the Temple Sinai Board and look forward to being part of the team and the congregation that fills us with Sinai pride.
Professionally, I own a financial publishing company. My core team has been together for over 15 years and, like I do at Sinai, I'm always trying to surround myself with people that know more about things than I do.
Personally, I love coaching sports for my kids, I recently got back into golf, I will order a scotch on weekends (and I'm slowly starting to add in some tequilas!) and I am a huge Fantasy Football fan. As a Michigan grad, I also love all of my Wolverine teams.
Anne Niesenbaum

Temple Sinai is my Sinai because it is the place where my family and I have come to find a second home with a second loving family. My husband Keith and I started coming to Temple Sinai when our children were quite small. and have continued through the years, until most recently. when we have been Zooming services, minyan, and classes. I learned Hebrew and became an adult Bat Mitzvah at Temple Sinai during the time my children were in Religious School. I joined with the rest of my family in mitzvot such as gleanings and gathering supplies for Mitzvah Morning. We love to bring food for the temple food drive while we are fasting on Yom Kippur.
The clergy at Temple Sinai are inspirational and take great interest in all of their congregants. They are learned teachers of Torah and Mishnah, not to mention more current topics of Judaic learning. They are extremely receptive to our lifelong love of learning, providing many interesting and relevant classes. We were fortunate enough to have our first trip to Israel as part of a group led by Rabbi White, and we will treasure the memories that we made. Rabbi Schachter enthusiastically leads us each week through the minyan service as we as bible study. Temple Sinai hosts book clubs, extraordinary guest speakers, and Israeli cooking demonstrations ... the list goes on and on.
I am an OB/GYN by training, but I have been in a hospital administration role at NYU Langone - Long Island since 2012.
In my spare time I am an avid gardener, with special interest in perennials. I also enjoy solving crossword puzzles.
Back to top

Tammy Szerencsy

Temple Sinai is my Sinai because attending any event (virtually or in-person), I know my family and I will feel welcomed and loved.
My husband Michael and I joined Temple Sinai before we even moved to New York. We were living in Boca Raton, Florida, considering a move back up north to live near family. We attended a service at Temple Sinai and immediately felt at home. We joined the temple, and had B'nei Mitzvah dates for our children before even finding a house! This was one of the best decisions we ever made.
Right away, I knew I wanted to be involved at the temple. Since three out of my four children are enrolled in the Religious School, I got involved as a member ot the Religious School Committee. We tried to attend as many events as our busy lives would allow, and everyone we have met has been so friendly and the positivity is contageous. When I was asked to get involved in leadership of the Friend of a Friend (FOF) women's group, naturally, I said yes. Spending more time at a place where I feel comfortable and welcomed, especially during the past year with the pandemic, has been a major comfort to us all. The continuity of Sinai's programming for myself and my family has been priceless. My family has been blessed to be part of the Holocaust and Jewish Resistance Program, led by Abbie and Richard Laskey; it has been incredibly enlightening. I am so grateful for this program, which has given my children the opportunity to hear first-hand accounts from actual survivors, as they never got to meet their great grandparents who were also survivors. Having the opportunity to get to know how the wonderful clergy, staff, and friends who I already consider my "Sinai Family," helped our transition into the community. I look forward to many more rewarding Sinai experiences.
I love spending my spare time with my husband, four children, two dogs, extended family and friends. I also love theatre, traveling, reading, swimming, and playing tennis.
Back to top

Adam Weinschel

Temple Sinai is My Sinai because because it's been an integral part of my entire life. My parents are members of Temple Sinai since the early 1970s, with my father Alan having served on the Board of Trustees for four terms and my mother Barbara active in many Committees over the years. I attended the Temple Nursery School and Religious School and became a Bar Mitzvah
at Temple Sinai. My Confirmation class photo (class of 1988) is hanging in the hallways. For me, Temple Sinai has always been a place of families and community, coupled with a love of Judaism. Temple Sinai's clergy and staff are wonderfully nurturing, supportive and engaging. I'm excited to be able to give back to the Temple by serving on its Board of Trustees. I love problem-solving and tackling challenging situations, and I look forward to providing the Board with my unique perspective.
My wife Leah and I moved to East Hills in 2011 with our children Henry and Phoebe. Phoebe
attended Temple Sinai's Nursery School, and both children are currently enrolled in the Religious School. Henry attends the teen Leadership Academy and participated in the Tzedakah Foundation with Rabbi Schachter. We proudly celebrated his Bar Mitzvah in November 2019.
Professionally, I am the Director of Institutional Investor Services for a prominent New York
law firm specializing in recovering moneys for shareholders impacted by securities fraud. My
hobbies include crossword puzzles, cooking, tennis and joining Leah in her passion for
gardening.
Jara Weinstock

Temple Sinai is my Sinai because it is where I first felt a connection to a temple. When I first starting dating my husband Andrew, I attended services with his family and loved the feeling that I got while listening to the beautiful prayers and the wonderful sermons. I began to understand what it means to be part of a Jewish community. I loved it so much that I went on to attend adult education classes and had an adult Bat Mitzvah! Temple Sinai, especially Rabbi White, has offered guidance and love during the best memories and most challenging times of my adult life.
Over the last seven years, our three children have been growing up in the loving environment
of the Nursery School, where the staff treat the children as their own. Now that our daughters are older, they attend the Religious School and really love to sing in the choir with Cantor Schwartz.
Prior to having children, I was a special educator at P.S. 183 in Manhattan. I also taught Pre-K
for one year at Central Synagogue in Manhattan where I learned prayers and songs that I still sing with my children today. I love to swim, read and go to see live music with my husband.
Back to top

Leslie Wollin

Temple Sinai is my Sinai because I feel so warmly welcomed, comfortable, happy and at home here. From the day we first walked in the doors of Temple Sinai, we have been greeted and embraced as family. Sinai through its services, Community and offerings has inspired and enriched my Judaism.
Although we are relatively new members, my husband David and I have become very involved in Temple activities. David has joined Brotherhood, we participate in Mitzvah Day and have had solos in the Purim Spiel, I spend a lot of my time at Temple Sinai, praying, learning, enjoying events and giving of my time to the Temple. I love the Community of Saturday morning minyan and Torah Study. I enjoy singing in the Choir, am a member of the Adult Engagement Committee and am active in Friend of a Friend. It is gratifying to cook and deliver
food for Cooking for a Cause. I take Hebrew Classes, attend the myriad of Temple events and
classes, knit for Sinai Stitches and recently joined the Administrative Committee.
In my professional career, I managed Banking Operations for several of the major banks in
New York. I ran financial operations and customer service, managing projects, implementing
new technologies and streamlining processes.
In our free time, my husband and I love to spend time with our grandsons, sail, play golf,
travel, read and occasionally binge on Netflix.
Tracy Zimmerman

Temple Sinai is my Sinai because I truly feel at home and I want to participate and make our Jewish life grow. While we have been here only a few years, my level of participation has grown exponentially, and that is because of the clergy, staff, and congregants. I want to be here alongside my friends planning, organizing, learning, and growing as a strong Jewish woman. I am now known as the Challah Queen for teaching several exceptional classes on Challah making. Both were the most fulfilling and satisfying experiences. I also have a regular column in the Scribe, entitled Tracy's Tasty Treats: The Musings of a Balabusta.

My oldest son Max and I went through the sixth grade life-changing Holocaust course here at Temple Sinai. My other sons, Harris and Eli, both attend the Religious School and I am on the Religious School Committee. I am also a chair of the newly formed Sinai Circle. I am very proud of all of my accomplishments thus far here at Temple Sinai and I am looking forward too many more.

My prior life was as a Special Education teacher in NYC. My husband Rob and I and our three boys have lived here for 10 years. My family of five have a strong Jewish household. We are very proud Zionists, Jews, and Temple Sinai members.
Charles Berman, Past President

Temple Sinai is my Sinai because it spans the generations and is the essence of Reform Judaism.

I joined Temple Sinai because of its great Nursery and Religious Schools and because of the outstanding clergy and lay leadership. I got involved because I made so many wonderful friends who were already involved and I wanted to join them in helping the temple fulfill its mission.

I served as Temple Sinai Brotherhood President from 1995-1998 and as Temple President from 2005-2007. During my tenure as president, Temple Sinai of successfully completed the largest renovation and building project to date.

I have been married for over 35 years to Lisa Berman, an accomplished actress and singer in community theatre on Long Island. We are the proud parents of Jeremy, Rebecca, and Ben.

I am currently the Receiver of Taxes in the Town of North Hempstead. I grew up in Lawrence, New York, and have been a resident of Roslyn Heights and a member of the temple since 1988.
I love the Mets and college football and I always root for Penn State and Northwestern.
Howard Berrent, Past President

Temple Sinai is my Sinai because it is a home away from home; there when you need it, want it, and are looking for solace. It is a place to feel connected.

Temple Sinai is an integral part of my life. I have been active on the Religious School Committee, Adult Engagement Committee, and was a founding member of the Chai Society. I also had the privilege of serving as president of the temple. It was very rewarding to see the temple grow and help make Temple Sinai an even more engaging community, with services, programming, and educational opportunities relevant to each and every congregant.

My wife Marjorie and I were married by Rabbi Kahan, Rabbi Emeritus of Temple Sinai and senior Rabbi of the congregation for eighteen years. Our children became B'nei Mitzvah and were confirmed at Temple Sinai. Our family includes Jennifer and her son, Paul, and Steven and his wife Diana, and their two children, Zelda and Spencer. Margie's parents, Bobby and Ed Steiner, have were members of Temple Sinai for more than 50 years.

In my professional life, I publish educational materials for public, charter, and private schools and educational institutions. I have worked with educational publishers, school districts, and financial groups and assessed and instructed students with learning and reading disabilities. I have authored several series of educational materials and have been a keynote speaker and presenter at many international, national, state, and local organizations and school systems. For the past several years I have been at RALLY! Education, LLC, an educational publishing company, which addresses standards-based, classroom-focused assessment and instructional materials for schools, both in print and electronic forms.

I love to read, enjoy politics, go to theater, and enjoy watching my grandkids play sports. I do other things as well as long as they are fun and make me laugh.
Irwin A. Cantor, Past President

Temple Sinai is my Sinai because it is an association which has given me deep pleasure and contentment and for me, is a "relationship made in heaven." I know I will maintain my relationship with the temple and my temple friends for the rest of my life.

I joined Temple Sinai more than 50 years ago. It never occurred to me not to join a temple when I moved to Roslyn. After reviewing the possibilities, I saw that Temple Sinai was an easy choice. It seemed to possess the characteristics that would satisfy each member of my family and indeed, it did. We all benefitted in so many ways that I cannot visualize my life without Temple Sinai.

When the temple needed a new Treasurer, and my wife, God bless her soul, volunteered me for the position.

In my working life, I was the senior partner of a CPA firm, ultimately sold the practice and became a professional trustee, executor and investment advisor.

My real love is to vacation with my grandchildren and my companion.
Jonathan Cheris, Past President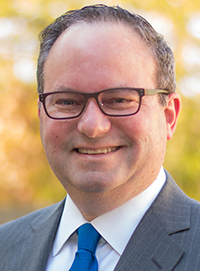 Temple Sinai is my Sinai because I love sharing sacred moments with my temple community.

My wife Ann and I joined the temple in the summer of 2001, and have never looked back. We have become active members of the temple along with our children, Aaron and Sara. It was a privilege to serve President of Temple Sinai and work towards the betterment of our temple family.

I became more involved as a volunteer after my father's death from cancer in 2003. I was already engaged in community leadership roles within the Village of East Hills and believed that my skills could be useful within the temple community that helped me through his passing. I've served the temple as Brotherhood President, and Committee Chair for Marketing, Membership and Administration. I served as Vice President for four years prior to becoming president.
Since 2013, I have been the Director of Marketing Information and Insights for Astoria Bank here on Long Island, after creating and leading innovative marketing analytics teams atCitibank for a number of years. I have extensive experience in consumer financial services.

My outside interests include family and photography, and I take lots of pictures on family outings and vacations!

I take my civic responsibility seriously and have been president of my civic association, a member of the Park at East Hills Oversight Committee and other volunteer programs within the Village of East Hills.

I am on the corporate board for the Long Island Chapter of the Crohn's & Colitis Foundation of America (CCFA) and am proud to have completed six half-marathons around the country while raising valuable funds and awareness for the mission of the CCFA.
Richard Evans, Past President

Temple Sinai is my Sinai because it a warm inclusive environment for learning, worship, and engagement. My wife Vicki and I and our two children, Jordan and Robin, first joined Temple Sinai in 2000. Jordan and Robin have both been educated at Temple Sinai since Nursery School. They both became B'nei Mitzvah and were confirmed at Sinai as well.

I have been on the Board of Trustees since 2004, and served as Chair of the Social Action Committee for five years, Brotherhood President for two years, Executive Vice President for two years and two years as President.
I am a Commercial Real Estate Appraiser and Principal with Property Appraisal Services, Inc, a full- service real estate appraisal firm. I enjoy weight lifting, fitness, gardening, hiking, and traveling to exotic locales including Belize, Honduras, Costa Rica, and Iceland.
Michelle Golden, Past President

Temple Sinai is my Sinai because here I have realized what being Jewish means to me. I have taken classes to learn Hebrew and was able to be part of the Adult B'not Mitzvah in 2011, a moment of which I am very proud. Temple Sinai has provided my entire family with many opportunities for learning, spirituality, and tikkun olam. We have made new and wonderful friends here; it's a place we call home.
Seth and I joined Temple Sinai in 2004. We became active in temple life through our children's participateion in Religious School, junior choir, JORTY, SORTY, and the many teen programs and service opportunities that they were fortunate to be part of. Seth was a valued member of the temple board for many years and has served as Membership Co-Chair, Brotherhood President, and is currently a member of the Todah Rabah Committee. Our appreciation of the clergy and leadership fuels our desire to help create a wam, welcoming home for all in our community.
My participation in Temple Sinai has been both joyful and inspiring. Over the years, I have learned from many extraordinary temple leaders. They have encouraged me and supported me as I have transitioned from Friend of a Friend board member to FOF president, Sinai Stitches coordinator, executive board member, and now, honorary trustee. These relationships are not unique to my experience. They are available to each and every congregant, and my hope is for everyone to feel touched by this community in a way that is meaningful to them. It was my privilege and honor to serve as President of Temple Sinai.
Dr. Steven Goodman, Past President

Temple Sinai is my Sinai because it provides our entire family with a sense of belonging and joy and is a constant source of strength, spirituality and Jewish learning.

I had the honor of being President of Temple Sinai from 1994-1996 where my family and I have been active members for more than 30 years.

My wife Sheri and I have been married for more than 45 years and we currently reside in Port Washington. Sheri is a social worker, and past president of Temple Sinai's Sisterhood (now Friend of a Friend). Our two children, Seth and Rebecca, grew up at Temple Sinai. Our grandson, Jack attends the Temple Sinai Religious School, and can't wait for our granddaughter, Jenna, to follow his lead!

I have an MA in Psychology as well as Master's and Doctoral degrees in Education from Columbia University's Teachers College.

Prior to my retirement in 2013, I spent 50 years of service at the Samuel Field YM&YWHA.During my tenure, I held almost every conceivable role in the agency from Camp and After School Counselor, to Program Director, Assistant Director, and Executive Director. From 1994-2014, I served as the Y's Executive Vice President and CEO.

I have taken on many leadership roles in the broader Jewish community and have served on and chaired many important committees and task forces for UJA-Federation of New York.

Now that I am retired, I have some time to enjoy my family and community. I love to read and learn, spend time with friends and help Temple Sinai and our wonderful congregation in any way that I can.
Barbara M. Kessler, Past President

Temple Sinai is my Sinai because it has helped guide me on my Jewish journey, providing comfort, community, learning, spirituality, and opportunities to give back as those needs have evolved throughout each stage of my adult life. Temple Sinai has been there for me and for my family and has helped each of us develop our own relationship to Judaism and synagogue life.

My husband and I joined Temple Sinai back in 1984 when my first child was ready to go to nursery school. We were not necessarily looking for a Jewish pre-school. We wanted a place where children could be children, where their creativity was nurtured, where learning took place through play and where we got the right vibe. When I was interviewing the Nursery School Director, one of the teachers came into the director's office. She was warm, friendly, and covered in paint. When the then director asked her why she looked the way she did, the teacher replied, "We are painting!" I loved that response and knew this was a place where playfulness was valued. I signed up immediately and never looked back.

I first became involved with Temple Sinai about five years later. By that time my son was in Temple Sinai's Religious School and my daughter was in Temple Sinai's Nursery School. We found the school programs to be good but we really did not have a community at Temple Sinai. My father died suddenly between Rosh Hashanah and Yom Kippur. I had no idea about what to do. Although it was early in the morning and the temple was not yet open, I called the temple. Within five minutes, the then Executive Director called me back and said, "Mamala, I am so sorry. Don't worry. We will help and be here for you." They were and have continued to be there for us throughout the years of our lives.

I became more involved at that point so I could give back to the community that gave so generously to us. I have co-chaired the Education and Adult Engagement Committees, participated in Mitzvah Days and served two terms on the Temple Board. I joined the Executive Board in 2006 and served as Temple President from 2009-2011. Being president of Temple Sinai was one of the most meaningful things that I have done in my life so far.

I was an attorney and business woman for 25+ years when I realized that I wanted to do something else that was more meaningful to me personally. I retired from law and went back to school to receive training as a life and career coach. I use my skills to assist professional women who are at a career crossroads and are ready to take their "next step"- whether they're trying to grow as a leader, seeking a promotion, changing careers or companies, or considering a return to the workplace.

I still participate in a number of non-profit organizations and love to spend time with family and friends. I enjoy walking on the beach, in the forest, or around the neighborhood, gardening and cooking. Most of all, I love sharing the joys of life and laughter with my granddaughter, Talia.
Richard C. Laskey, Past President

Temple Sinai is my Sinai because, like the original Sinai, it is for me a place of revelation, reconnection, rumination, and rejoicing. Though I am the great-grandson of an Orthodox rabbi, I was raised on Long Island in the Reform tradition and am comfortable with the traditions and tenets of progressive Judaism.

I first became personally involved in temple life when I began attending the Saturday morning Minyan (Torah study) shortly after my younger son became a Bar Mitzvah. I suppose I could say that I have attended the minyan religiously since 1993!

Because someone asked me personally, I became involved in social action, working as a Mitzvah Day captain at the first annual Mitzvah Day and a couple of years later, with Amy Kula, becoming the Mitzvah Day leaders. We did that for more than five years.

I "represented" the Minyan on the Assistant Rabbi (ARab) search committee in 2000 and, shortly thereafter, was elected to the Board of Trustees. I served as Temple President from 2007-09.
Now, as a retiree, I devote a substantial number of hours to representing Temple Sinai on the "Strategy Committee" of Long Island CAN (Congregations, Associations & Neighborhoods), a faith-based community organizing affiliate of Industrial Areas Foundation.

I am an active member of the Steering Committee of Reform Jewish Voice of New York, the statewide lobbying arm of the Reform movement. I utilize my significant lobbying experience as a representative of the New York State District Attorney's Association during my thirty-plus years as a state prosecutor.

I also find the time to assist my wife, Abbie, a retired middle school English teacher, who teaches a ten-week course on Holocaust & Jewish Resistance to Temple Sinai's sixth graders and their parents.

I enjoy exploring our world, in general - and the Jewish world, in particular - through travel, hiking, and reading.
Martin Marlowe, Past President

Temple Sinai is my Sinai because it is my place of peace and learning and it is where our children received their wonderful Jewish educations.

I have been a member of Temple Sinai since the early 70's and served as President from 1981 to 1983.

I graduated from Ohio State University in 1955, and immediately started working in the apparel industry. I was in my own business for more than 35 years, and traveled all over the world. In 1972, my family and I moved to Hong Kong, and during those two years, my oldest son became a Bar Mitzvah in an Orthodox synagogue built by the Sassoon family.

I returned to New York in 1974. In 1991, I joined Jones New York Apparel Group, and in 2001, became executive Vice President of Manufacturing. I retired in 2005. Two years later I spent a year as a consultant for Ralph Lauren. I am currently doing consulting work for various apparel companies.

My wife, Mary and I live in Port Washington. We share six children and eleven grandchildren.

I have been an avid fly fisherman for most of my life. I enjoy opera, theatre, classical music, Chinese cooking, travel, and reading.
Daniel S. Reich, Past President

Temple Sinai is my Sinai because it is where I feel at home.

My family joined Temple Sinai when I was a child, and I became a Bar Mitzvah here. I was inspired to become active in my Jewish community after competing in the 1973 Maccabiah Games in Israel, and because I feel strongly about Jewish continuity. I wanted to make a difference.

I am in the textile industry, in a business started in 1899 by my great-grandfather. I enjoy my family, travel, and following my favorite sports teams.
David M. Schwartz, Past President

Temple Sinai is my Sinai because we are a caring community that has a unified voice in ensuring the continuity of the Jewish people on Long Island. We have proven to be the connective force of all religions and we bridge the gap in order for all people of every faith to live together as neighbors in peace. Temple Sinai serves as a refuge for people on an emotional and spiritual and religious level but also served as a physical refuge during Superstorm Sandy and Hurricane Irene for our community members who were cold and needed a place to go.

My wife Heather and I, along with our daughters Courtney and Brooke, joined Temple Sinai in 2003. I immediately connected with Rabbi White, who is both dynamic and insightful. My interest in having "Big Speakers" lecture our community led me to join the Adult Engagement Committee early on. After serving as Vice President and Executive Vice President, I was elected President of Temple Sinai in 2011.

Some of the highlights of my presidency included hiring Cantor Sergei Schwartz, Rabbi Andrew Gordon as Associate Rabbi, and Cantor Elena Schwartz as Education Director. We replaced the organ with a beautiful new baby grand piano and tore out the old sound system with a new state- of-the-art system. We hosted President Bill Clinton as our Distinguished Lecturer to a sellout crowd of 1800 people.

By profession, I am an attorney concentrating in Litigation and Lobbying/Government Affairs, and am a co-founding Partner at Gotham Government Relations and Communication. As a regular guest legal commentator for the Fox News Channel, MSNBC, Headline News, WABC News, WPIX News, Fox Morning Show, Tru TV and for the ESPN morning show, I offer my legal analysis and expert opinion on criminal cases, political issues, constitutional issues, and civil cases.

My interests are in family, politics, and sports …Go Yankees, Jets, Knicks, and Islanders!
Michael Shaffet, Past Treasurer

Temple Sinai is my Sinai because it allows my family and I to experience Judaism in a warm and welcoming environment.

My wife Betty and I, together with our two daughters, moved to East Hills more than 50 years ago and became members of Temple Sinai shortly thereafter. We were warmly welcomed by Rabbi Kahan, who presided over many life cycle events including the B'not Mitzvah of both of our children. The current Temple clergy, led by Rabbi White, has continued this welcoming and caring spirit, all of which has provided my family with a lasting connection to Judaism.

More than 15 years ago I was asked to serve as Treasurer of Temple Sinai, a position I hold to this day. This has given me the opportunity to work with the clergy, officers, and board members in making sure that our temple's finances remain strong and that this institution we all love will continue to provide a Jewish home for generations to come.

I am a CPA and spent many years in public accounting. I later became the Chief Financial Officer and later Chief Operating Officer of a worldwide diamond and jewelry company.

On a personal note, I enjoy tennis, and I go to 40 Met games a year!
Carol Biener Weinstock, Past President

Temple Sinai is my Sinai because I grew up in the Temple Sinai culture. Friday nights were special because the family all went to Shabbat Services. The temple has had a profound influence on my life as my parents, Martin and Phyllis Biener, were founding members of my "second home." It literally became my second home during my tenure as President. I helped raise millions of dollars for the temple's construction and renovation which included a new catering hall, kitchen, interior design, nursery school additions, and the Feinstein Educational Center.

My husband Stanley and I have three wonderful children and six fantastic grandchildren. Our daughter Caryn and her husband live in California but their heart is here at Temple Sinai. Our sons Jason and Andrew and their wives have followed in our footsteps of calling Temple Sinai their home. They have all been named at Temple Sinai and have gone through the entire educational program successfully.

Jason and Andrew have followed their grandfather's 50-year tradition of blowing the shofar. Each year, the great Tikah Gedolah gets stronger as their commitment to Temple Sinai grows. Their grandfather's influence has been profound and I am proud of my dad who, at 93-years-old, lifted the Torah on Yom Kippur.

My husband and I own a family business, Biener Audi, which was started in 1929 by my grandfather. We have all enjoyed many adventures in the automobile business including racing cars at Roosevelt Raceway.

I have many unusual interests, including building our country dining room table. What does a nice Jewish girl get for Mother's Day? An electric table saw! I also enjoy snow skiing, roller blading and playing with my grandkids…the greatest gift of all.
---
Howard J. Weisler, Past President

Temple Sinai is my Sinai because it has provided a Jewish "home away from home" for more than years for my late wife, Marilyn, me, our son Adam, and our daughter Erica. The temple has been there for us through the happy times and provided the necessary support and solace during the sad times. Through our Temple Sinai affiliation, we have established some wonderful long term friendships.

We moved to Roslyn Heights from Queens with two young children and were looking for a synagogue that would encourage family participation and be welcoming. After we visited a few neighboring synagogues, our "hands down" decision was to join Temple Sinai.

Our family regularly attended Shabbat services and soon established relationships with the temple's clergy and leadership. I was invited to join a committee and later served on many other committees, became a temple officer, and ultimately, had the honor to serve as Temple President from 1993 to 1995. After my presidency, I have continued to remain active as an Honorary Trustee, serving as the Chair of the temple's Building, Grounds, and House Committee, which oversees the expansion and modernization of our temple's facilities.

I am the proud grandfather of Rachel and Leah. My wife Marilyn (who was my bride for more than 50 years) and I were thrilled when our children enrolled both of our granddaughters at Rodeph Shalom Day School, where they are getting a wonderful Jewish and secular education.

I am an attorney by education, but have been involved in my own business for the past 46 years.
Toni Wiener, Past President

Temple Sinai is my Sinai because it afforded me the opportunity to be its President and immerse myself in its caring and loving activities and traditions.

My parents were members of Temple Sinai while I was growing up and when I moved back to Roslyn, my husband Hank and I were quick to join. My children, Liz and Andrew, went to Nursery School as well as Religious School and learned to love the temple as much as we all do. When it was time to choose a nursery school for my grandchildren, Temple Sinai was the obvious choice.

Many members of my family belong to the Temple. We feel very close to the Rabbis, Cantors and professional staff.
Thu, June 8 2023
19 Sivan 5783
Thu, June 8 2023 19 Sivan 5783