Friend of a Friend/Chaverot
Friend of a Friend/Chaverot
Click Here for Exciting FOF Events through June, 2021
Who We Are:
A dynamic inter-generational group of women whose mission is to provide a social outreach program, which will enhance their connection to the synagogue and Judaism. In hopes of enriching ourselves, our community and our Temple family, our goal is to offer programs that provide spiritual and intellectual fulfillment.
What We Do:
We sponsor terrific events, both religious and secular, to learn from our clergy and other speakers and to bond with and support the women within our temple community.
We do outreach and tzedakah, providing meals, clothing and support to those in need.
Your dues allow us to contribute to the youth and adult programs, the clergy's discretionary funds, the holiday boutiques and community social service organizations.
We welcome your participation and encourage new members to get involved. Annual Friend of a Friend/Chaverot dues may be paid along with your Temple membership or anytime. For more information, please contact the Temple Office at 516-621-6800 or FoF@mysinai.org
Please mark your calendar for the following Friend of a Friend events and, if you can join us, RSVP to: FoF@mysinai.org.
Thurs, March 11 @ 7:00 PM - Zoom: Big Bingo Bash
Thurs, Mar 18 @ 11:00 am - Creating a Celebratory Passover Table w Alicia Gitlitz & Rachel Graham (

Adult Engagement Zoom Event co-sponsored by FOF)
Wed, March 24 @ 7:00 pm - Women's Intergenerational Virtual Seder
Tues, April 6 @ 1:00 pm - "The Versatile Cookie" Virtual Demo with Rhonda Wolf
Fri, April 9 @ 9:30 am - FOF Meeting Zoom
Wed, April 21 @ 7:00 pm - Wine, Women & Wisdom via Zoom
Fri, May 7 @ 9:30 am - FOF Meeting Zoom
Thurs, May 13 @ 7:00 pm - Challah Bake Zoom with Tracy Z. (Shavuot - May 16)
Fri, May 21 @ 6:45 pm - FOF Virtual Shabbat Service REBOOT
Fri, June 4 @ 10:00 am - FOF Virtual Spring Brunch
Here's a look at some of our events - join us!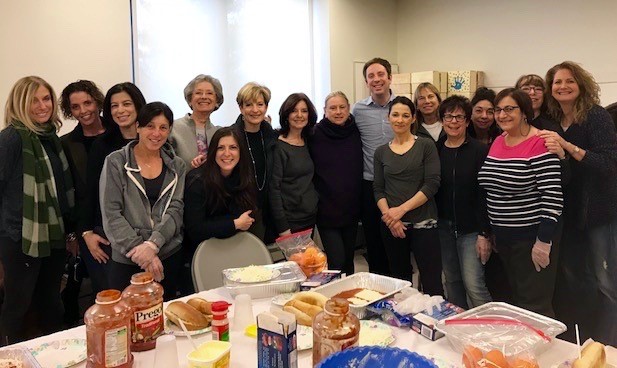 Join Friend of a Friend / Chaverot… be a part of this incredible group of women!
To become a member:
Send your check payable to Temple Sinai for $36
Memo Line: FOF
Temple Sinai

425 Roslyn Road

Roslyn Heights, NY 11577

or online : Click to join now!

Contact us at fof@mysinai.org

Executive Board

President - Jacqueline Covey

Treasurer - Robyn Schreiber

Recording Secretary - Lori Yaspan

Rosh Chodesh - Charlotte Hollander & Abbie Laskey

Past President - Loryn Solomon

Temple Vice President - Robyn Corbin
Sat, July 24 2021
15 Av 5781
Sat, July 24 2021 15 Av 5781